Let's Figure This Out
This article is a stub.
You can help La-Mulana 2 Wiki by expanding it.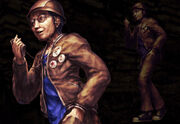 After revealing the "treasure of all life" brought back from the ruins of La-Mulana, he returned to an hermetic life once more. Although he quit after finishing his research on "The root of all life", he finds himself slowly drawn back into the world of archeology.
-- Kickstarter Bio
Ad blocker interference detected!
Wikia is a free-to-use site that makes money from advertising. We have a modified experience for viewers using ad blockers

Wikia is not accessible if you've made further modifications. Remove the custom ad blocker rule(s) and the page will load as expected.